THURSDAY, 01 AUGUST 2019
Choice Hotels Rewards Business Travelers With New Cambria Perks

Visit us at booth: 417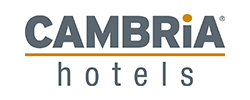 Choice Privileges, the award-winning and free loyalty program from Choice Hotels International, Inc. (NYSE: CHH), announced a new slate of benefits tailored to business travelers staying at Cambria Hotels. The announcement advances Choice Hotels' focus on corporate travel, which will be on full display at this week's Global Business Travel Association (GBTA) Convention.
"Choice Privileges will soon offer business travelers at our upscale Cambria hotels even more rewards — and there's no better place than GBTA to make this exciting announcement," said Robert McDowell, chief commercial officer, Choice Hotels. "We're continuously evolving our loyalty program to deliver benefits that matter to members, who will now earn even more immediate benefits, credits and points when they choose Cambria for their next business trip."
Beginning Sept. 9, Choice Privileges members who book a qualifying Cambria hotel stay may earn three new benefits on top of their regular rewards:
Cambria credit: Earn a $10 voucher with every stay to use at the Cambria marketplace or restaurant, where business travelers can enjoy menus featuring freshly prepared food, locally sourced craft beer, wine, specialty cocktails and small bites.
Double "Your Extras" rewards: Each stay that includes at least one weeknight — any Sunday through Thursday night — comes with double the "Your Extras" rewards. Members can choose to earn twice the credit to spend at Starbucks, Amazon or Uber or select twice the Choice Privileges points or airline miles.
Jump start your status: Business travelers who stay at the Cambria brand just once — and who participate in other hotel loyalty programs — are eligible to have their status upgraded to Diamond Elite. In addition to coming with extra perks, including a 50% elite-point bonus, complimentary room upgrades, and an elite welcome gift or bonus points at participating U.S. hotels, Diamond Elite status is another way Choice is recognizing corporate travelers for their business.
"Cambria is among Choice's most popular brands for business travelers for good reason: we designed it specifically with them in mind," said Janis Cannon, senior vice president, upscale brands, Choice Hotels. "We're thrilled to offer a loyalty program that embodies the essence of the upscale Cambria brand, which helps guests make the most of their business travel. With new loyalty benefits, Cambria guests can indulge in even more of the 'little luxuries' that time-starved business travelers seek."


Choice Privileges has more than 40 million members and is growing every day. It has been named a top hotel loyalty program in USA Today's 10Best Readers' Choice Awards and by U.S. News & World Report for three consecutive years. For more information or to enroll in Choice Privileges, visit www.choicehotels.com/choice-privileges.

About Choice Hotels®
Choice Hotels International, Inc. (NYSE: CHH) is one of the largest lodging franchisors in the world. With more than 7,000 hotels, representing over 590,000 rooms, in over 40 countries and territories as of December 31, 2019, the Choice® family of hotel brands provide business and leisure travelers with a range of high-quality lodging options from limited service to full-service hotels in the upscale, midscale, extended-stay and economy segments. The award-winning Choice Privileges® loyalty program offers members benefits ranging from everyday rewards to exceptional experiences. For more information, visit www.choicehotels.com.

Forward-Looking Statements
Certain matters discussed in this press release constitute forward-looking statements within the meaning of the Private Securities Litigation Reform Act of 1995. Generally, our use of words such as "expect," "estimate," "believe," "anticipate," "should," "will," "forecast," "plan," "project," "assume," or similar words of futurity identify such forward-looking statements. These forward-looking statements are based on management's current beliefs, assumptions, and expectations regarding future events, which, in turn, are based on information currently available to management. Such statements may relate to projections of the company's revenue, earnings, and other financial and operational measures, our liquidity, our ability to assist franchisees through relief or other financial measures, our ability to minimize or manage disruptions posed by COVID-19, and the impact of COVID-19 and economic conditions on our future operations, among other matters. We caution you not to place undue reliance on any such forward-looking statements. Forward-looking statements do not guarantee future performance and involve known and unknown risks, uncertainties, and other factors.

Several factors could cause actual results, performance, or achievements of the company to differ materially from those expressed in or contemplated by the forward-looking statements. Such risks include, but are not limited to, continuation or worsening of COVID-19 pandemic; changes in consumer demand; the impact of COVID-19 on the global hospitality industry, particularly in the U.S. travel market, changes to general, domestic, and foreign economic conditions, including as a result of COVID-19; future global outbreaks of pandemics or contagious diseases or fear of such outbreaks; foreign currency fluctuations; operating risks common in the lodging and franchising industries; impairments or losses relating to acquired businesses, changes to the desirability of our brands as viewed by hotel operators and customers; changes to the terms or termination of our contracts with franchisees; our ability to keep pace with improvements in technology utilized for marketing and reservations systems and other operating systems; our ability to grow our franchise system; exposure to risks related to our hotel-development, ownership and financing activities; fluctuations in the supply and demand for hotels rooms; our ability to realize anticipated benefits from acquired businesses; the level of acceptance of alternative growth strategies we may implement; operating risks associated with our international operations, especially in areas currently most affected by COVID-19; the outcome of litigation; and our ability to manage our indebtedness. These and other risk factors are discussed in detail in the company's filings with the Securities and Exchange Commission, including our annual report on Form 10-K and our quarterly reports filed on Form 10-Q. Except as may be required by law, we undertake no obligation to update publicly or revise any forward-looking statement, whether as a result of new information, future events, or otherwise.

© 2020 Choice Hotels International, Inc. All rights reserved.

News Source

Click here to view the original version of this article.


ORGANIZATION CONTACT