MONDAY, 05 AUGUST 2019
Atlas Travel Expands Safety Solutions for Traveling Women

Visit us at booth: 4431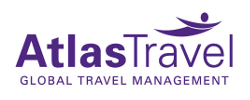 Atlas Travel, an award-winning, woman-owned and operated travel management company, is thrilled to announce its partnership with Maiden Voyage.
A globally-recognized specialist in female and LGBTQ traveler safety, Maiden Voyage has been providing travelers and organizations alike with safety resources and training since 2008. With a network that encompasses 100 countries and over 80 global ambassadors, Maiden Voyage's duty of care solutions are implemented world-wide.
"We are delighted to be working with such a renowned leader and advocate for women and LGBTQ traveler safety," says Elaine Osgood, Atlas Travel founder and CEO. "This partnership aligns with and helps us further our own commitments to protecting the well-being of our travelers."
Since its founding in 1986, Atlas Travel has fostered a culture of corporate engagement and community empowerment. As an organization, Atlas seeks to set the benchmark for corporate contributions towards the betterment of society, with this partnership being the latest measure in supporting our traveling communities.
Regarding the partnership, Maiden Voyage founder and CEO Carolyn Pearson is thrilled. "Atlas Travel will be our first U.S-based TMC partner and a first for partnering with such a like-minded, woman-owned organization. Our goals and values are very much aligned, from both a gendered perspective and the belief that organizations can do well and do good at the same time. These synergies make this a very exciting partnership for us."
To learn more about this partnership, please reach out to Atlas Travel.
About Atlas Travel
Headquartered in Marlborough, Massachusetts, Atlas Travel offers corporate travel, vacation planning, and meetings and incentives services. For over thirty years, Atlas Travel has been providing easier travel and better management to companies around the globe. Through a wholly-owned UK division and affiliation with BCD Travel, Atlas Travel offers global travel programs to more than 110 countries.
Atlas Travel is a certified Women's Business Enterprise (WBE) and Woman-Owned Small Business (WOSB), as well as a distinguished member of the Travel Weekly Power List.
About Maiden Voyage
Maiden Voyage, launched in 2008, are world leaders in diverse traveler safety and help organizations globally to safeguard their female and LGBTQ+ travelers. Maiden Voyage focuses heavily on risk mitigation through both in-person and online education solutions, traveler wellbeing webinars and social platforms to connect female travelers. Maiden Voyage launched the 'female-friendly' hotel standard adopted by numerous corporate travel teams and travel management companies to assure excellent standards in safety, comfort and wellbeing. 
www.maiden-voyage.com


ORGANIZATION CONTACT