TUESDAY, 18 JULY 2017
Christopherson Business Travel And Domo Harness The Power Of Business Data To Transform The Travel Management Industry
Companies Introduce First-Of-A-Kind Cloud Apps For Travel Managers At 2017 Gbta Convention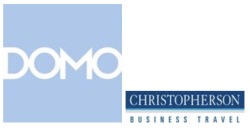 Christopherson Business Travel and Domo, announced three new travel management solutions built to deliver groundbreaking analytics and insights on an organization's travel budgets and spend. With the dynamic pace of change in the travel management industry, travel managers are inundated with data and information that tell different stories about the state of their travel budgets and spend. Domo and Christopherson teamed up to develop industry-first mobile solutions that leverage Christopherson's industry expertise and Domo's ground-breaking technology platform to help travel managers quickly gain powerful insights to improve compliance, negotiate better rates, and improve the traveler experience.
"The travel industry is becoming more complex and is ripe for disruption. While massive amounts of travel data exists, many organizations find it difficult to harness deep insights and quickly take action with this data. By bringing new solutions to market with Christopherson, we are making it easier for travel managers to rapidly respond to the needs of the business and to be more impactful leaders in this time of dramatic change," said Jay Heglar, chief strategy officer at Domo.
"As a long-standing leader in the business travel industry, we view ourselves as a high-tech travel management firm. As such, we offer industry-first technology that helps our customers solve their travel issues. Our partnership with Domo allows us to provide customers with new solutions that enable them to interact with and gain insights from their data in an easy, effortless manner," said Mike Cameron, CEO at Christopherson Business Travel.
The new travel management solutions from Christopherson and Domo include:
Travel Leakage Analyzer: This app allows travel managers to control and visualize "out of program" spend. Taking feeds from Christopherson's AirPortal® and financial systems such as Concur, NetSuite, and QuickBooks, the Travel Leakage App visualizes where travel spend is in compliance, and more importantly, where it is not. Understanding where travel spend is out of policy can help travel managers change the negative trend and move towards improving compliance.
Hotel Spend Analyzer: This app instantly finds hotel spend or total nights in any area to help travel managers better negotiate contracts with vendors and improve the traveler experience. Domo takes multiple data feeds and matches them together to deliver insights such as tracking Total Room Nights, Average Daily Rate, and Total Spend in any custom region. Travel managers can instantly view all travel trends and spending across the globe by vendor, and are enabled with the information they need to negotiate better rates.
Travel Analytics: This dashboard is a set of best-practice visualizations offered through Christopherson that help travel managers easily and intuitively connect multiple real-time travel data feeds into the Domo platform. These rapid deployment cards will make it fast and simple to put the relevant insights into the hands of travel executives and managers.
Ranked as the 12th largest business travel agency in the U.S. by Business Travel News, Christopherson Business Travel is the independently-owned leader in intelligent business travel management. Christopherson specializes in travel technology innovations, such as AirPortal®, the industry's most robust travel management platform, and a consultative approach to account management. The company operates from five full-service locations, as well as 35 client-dedicated on-site locations.

Domo transforms the way business is managed by changing the relationship people–from the CEO to the frontline worker–have with data. Enterprise customers like Christopherson Business Travel chose Domo's cloud-based platform because it puts data directly into the hands of people across the organization, offering top-rated ease of use, delivering powerful visualizations, and enabling more effective decisions that help provide better returns and keep their organizations competitive.

Unveiling these new travel management solutions at the 2017 GBTA Convention–the world's largest business travel event–Christopherson and Domo will have product details and demonstrations at the show. Travel executives interested in a live demo should visit Christopherson Business Travel at Booth 1175 and Domo at Booth 1079.

To learn more about the new travel management solutions from Christopherson Business Travel and Domo, visit: https://www.domo.com/gbta

About Christopherson Business Travel

Christopherson Business Travel is a travel management company specializing in travel technology and consultative account management. As an industry innovator, Christopherson developed the first comprehensive mobile app for travel managers, AirPortal 360™ Mobile, and continues to deliver meaningful digital solutions to clients via its robust software platform, AirPortal®. Ranked as the 12th largest business travel agency in the U.S. by Business Travel News, Christopherson operates from five full-service locations and has booked more than $600 million in travel in 2016 for more than 900 companies and organizations across the country. For more information, visit www.CBTravel.com. You can also follow Christopherson on Twitter, LinkedIn, Instagram and Facebook.

About Domo Domo helps all employees–from the CEO to the front-line worker–transform the way business is managed by connecting them to the right data and people they need to improve business results. Domo"s Business Cloud is the world"s first customizable platform that enables decision makers to identify and act on strategic opportunities in real time. The company works with the world"s leading and most progressive brands, including more than 25 percent of the Fortune 50, across multiple industries including travel and hospitality, retail, manufacturing, finance, technology and more. For more information, visit www.domo.com. You can also follow Domo on Twitter, Facebook, LinkedIn, Google+, Instagram and Pinterest.


ORGANIZATION

Christopherson Business Travel
www.cbtravel.com/
5588 South Green Street
USA - Salt Lake City, UT 84123
Tollfree: 866-327-7650
Phone: 801-327-7700


CONTACT